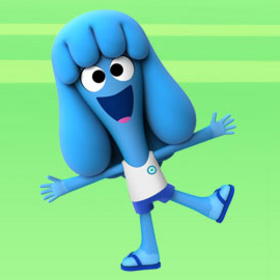 Mina is very clever and knows lots of useful facts. She loves everything do to with science and inventing, and she always loves to see what will happen next in situations (voiced by Emma Weaver (UK), Hayley Faith Negrin (US), Lara Jill Miller (US on Disney Junior), singing voice by Hatsune Miku).
Appearance
Edit
Mina is blue and has blue hair. she has a white shirt wit a badge that has a blue circle. she wears blue pants with blue sandals. 
Personality
Edit
She likes doing science expiriments and inventing stuff.